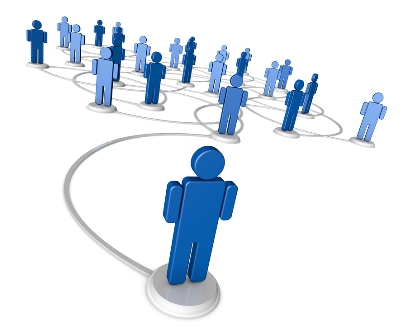 There are many of these experiments and studies that offer wonderful insight as to how you can both become better at networking as well as have a better network. Here is one in particular.
In the 1960's, Harvard social psychologist, Stanley Milgram studied what he termed the "small world" problem. He wanted to gain a better understanding of how people were connected to one another.
In one experiment, he sent to 160 randomly selected individuals in Omaha, Nebraska a packet with the name and address of a stockbroker who worked in Boston (and lived in Sharon, Massachusetts). Milgram instructed each individual to write their name on the roster in the packet and then mail the packet to a friend or acquaintance who they thought would get it closer to the stockbroker, and so on until it reached the Boston broker.
On average the packets reached the broker in six steps (thus the phrase "six degrees of separation"). While Milgram initially reasoned that if the packets started from 160 random points, the packets would arrive at their destination with similar randomness. Many of the chain packets, however, followed the same asymmetrical pattern to the Boston stockbroker.  In all, half of the responses that got to the stockbroker were delivered by three people.  Hence, the phrase "six degrees of separation" doesn't mean that everyone is linked to everyone else in just six steps.  It does mean that a very small number of people are linked to everyone else in a few steps, and the rest of us are linked to the world through those few.
There is an easy way to explore this idea.  Write down the names of 40 friends and trace them backwards to how they were introduced to you.  This exercise will reveal that what people term as their "social circles" are really inverted pyramids. In other words, a large percentage of your contacts likely originated from a relatively few number of individuals. Those at the tops of these pyramids are your Network Pyramid Capstones.
Here is the consideration for you. If you are working to "jump start" your network or determine where your time is best spent, first, find your Network Pyramid Capstones. Then take one or all of your Network Pyramid Capstones to lunch, breakfast, for coffee or beer or whatever.
That is, really make an effort to develop a great relationship with these people – find ways to help them and be sure they understand how they can help you. These individuals have been instrumental in building your network to this point.  It is likely they will do more of the same in the future.