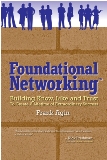 Effective professional networking is about building know, like and trust in your relationships. This is not a function of skills and techniques. Rather, you improve these networking relationships by focusing on your attitudes and habits.
What attitudes and habits improve your ALTRUISM?  Improve your network by focusing on your attitudes and habits. Altruism is the habit of giving to the world around you. Here are some thoughts from Foundational Networking by Frank Agin, founder and CEO of AmSpirit Business Connections:
What you give to the world, comes back in the form of people wanting to associate with you. Give those around you opportunities, information, support, energy, and additional contacts.
Attempt to identify with others' challenges, insecurities, struggles, and disappointments. Compassion helps you develop a heightened sense of how you can contribute to others. There is great value in providing others with moral support in times of trouble.
When you smile, you cause others to smile with you (giving them an uplifting feeling).
Giving your time and talents by volunteering offers opportunities to fortify your network.
Offering compliments to others costs you nothing, but improves their self-esteem.
Give Accolades! Celebrating others' achievements creates a stronger bond with them.
Take every opportunity to say "thanks" whether in word, written note, or special action. Say thank you often. It will give others the sense of feeling appreciated.
When you really listen to someone you give validation to them.
Others want to give to you, especially if you have given to them. Accept it. By opening yourself to these offerings, you give them the joy of helping you.
Focus on ways in which you can be considerate of others' feelings.
Find ways you can have a positive impact on the lives of others in any way, big or small. Altruism is not so much what you give but the spirit that moves you to give.
Always be ready to lend a helping hand even if you might not receive anything in return, as there is no rhyme or reason as to when or how much your generosity will return to you.
The triumphs of others are your gains, too, and their struggles are your struggles too.
Altruism is not limited by your personal wealth, professional experience or influence. Just bringing people together from different segments of your life is invaluable to others.