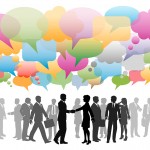 It is two or more people working towards their mutual benefit. Those benefits could be business. But those benefits generally go well beyond that.
Information (job openings, recommendations, problem solving ideas).
Introductions (clients, vendors, employees, employers, colleagues and life-long friends).
Time & Support (encouragement, a sympathtic ear, assistance of all kinds).
LEAVE YOUR COMMENTS OR DEFINITION OF NETWORKING!