WOULD YOU TAKE A MESSAGE TO GARCIA? If you have initiative, read on …
In 1899, Elbert Hubbard wrote a short essay that he printed as filler without a title in the March issue of the magazine Philistine. Eventually becoming referred to as A Message To Garcia, Hubbard's son inspired this thesis when he remarked over dinner one evening that the true hero of the Spanish-American war was a man named Rowan – a messenger who braved death by carrying a note behind the lines to Garcia, the leader of the insurgents.
People were taken by A Message To Garcia, and requests for reprints came in from around the country, including George Daniels of the New York Central Railroad – who wanted 500,000 copies. The director of Russian Railways read one of Daniel's reprints and had it translated into Russian. He then distributed A Message To Garcia to every one of his railroad employees.
The Russian military then picked up the essay and saw to it that each Russian soldier sent to the Japanese front had a copy. The Japanese military found the essay in the possession of the Russian prisoners. Out of curiosity, they had it translated into Japanese. It so moved them, then that the Emperor ensured that each member of the Japanese government had a copy.
Then coming full circle, United States Navy distributed it to its officers and sailors at the brink of the First World War.
Needless to say, A Message To Garcia was very popular, selling more than 40 million copies, and being translated into dozens of languages. According to Wikipedia, it also became a well-known quotation of American business culture until the middle of the 20th century, as "to take a message to Garcia" was a slang expression for taking initiative.
As you read it, ponder to yourself in the context of this expression, "Would I take a message to Garcia?" Likewise, ponder who are the people around you who "Would take a message to Garcia?"
At this point, A Message To Garcia is considered public domain and can be (and is) freely shared. It a message that will resonant with those who endeavor to take initiative and those people (hopefully you) should then share it with those in their network whom you would like to inspire to take a message to Garcia.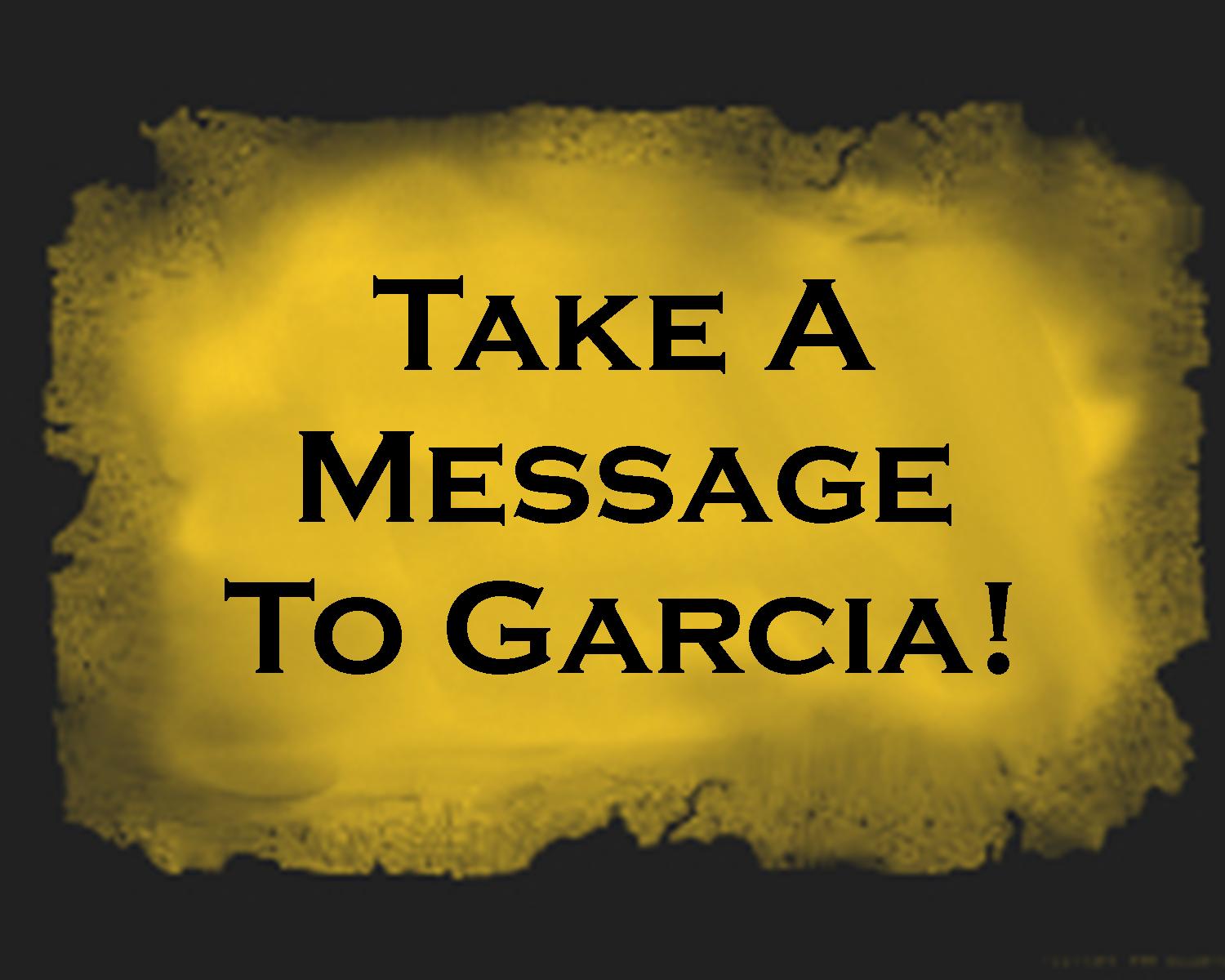 Assuming you have the initiative to do so, you can find Elbert Hubbard's original essay at http://www.benning.army.mil/infantry/199th/ocs/content/pdf/Message%20to%20Garcia.pdf