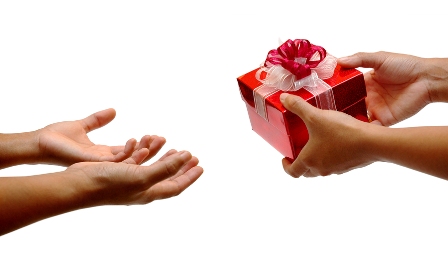 "How do I go about getting others to know, like & trust me?" In the world of business and professional networking, that is the $64,000 question. One answer to this question is Never Stop Giving.
The Golden Rule of Networking
The Golden Rule of Networking states "Give first, get second." In short, if you want to get things FROM your network, you first need to give things TO your network. If you are not sure what you have to give, here are some ideas.
Give referrals or additional contacts.
Share opportunities.
Connect people to information, such as book titles, websites, and groups on Facebook or LinkedIn.
You can even give intangibles, such as encouragement and support.
Regardless of what you give, the bottom line is this: give, give, give! When you give to others they cannot help but know, like, and trust you. And, as a result, they will want to return the generosity. In addition, you will develop the reputation of being a generous person. This will inspire others to want to contribute to you, as they trust that you are likely to give back.
Giving is Powerful
Giving is powerful and should become almost a daily habit.
Share information with others and they will share information back.
Give referrals to centers of influence in your network and they will go out of their way to return the deed.
Help your prospective clients with things unrelated to what you sell and you will be forever on the top of their mind (perhaps referring you clients down the road).
Be supportive of your clients and vendors and they will rave to others about you.
Therefore, with everyone you encounter, ask yourself this: "In what way could I help them?" When the answers come to you, take action. That will build know, like, and trust like nothing else. And remember to never stop giving!
---
Learn more about networking and AmSpirit Business Connections at www.amspirit.com.